PLEASE NOTE: the campsite is fully booked for the D-DAY 2024 period.
The camping of Sainte-Mère-Église (3 stars) is located in Normandy, in the peninsula of Cotentin, in the heart of the D-Day history.
The campsite is open from 7 April 2023 to 16 September 2023.
Reservations for 2023 are available on the Reservations tab of the website (except for the period of 6 June).
Please contact us by e-mail at: smecamping@gmail.com
See you soon
Ophélie and Fred
Come and stay in our quiet and pleasant campsite while bieng at a stone's throw from the amenities offered by the village of Sainte-Mère-Église.
We are at 3 minutes' walk from the Airborne Museum and the famous steeple of Sainte-Mère-Église.
Our campsite is an ideal place for short or long stays. All our accomodations are recent, modern and well arranged. Of course, we do propose lots of beautiful spacious pitches with electrical connection to accommodate motorhomes, caravans and tents.
Hikers touring on the trail GR223 will be able to stop at the Sainte-Mère-Église campsite without making a detour, the trail passes just in front of the entrance. And for cyclists wishing to stop at the campsite and visit the municipality, we are at only 4.5 km from the Eurovélo 4.
The camping of Sainte-Mère-Église can become your base camp for your holidays, allowing you to discover the many highlights of the region and the surrounding area, whether you are in quest of History or just Nature.
Discover our accommodations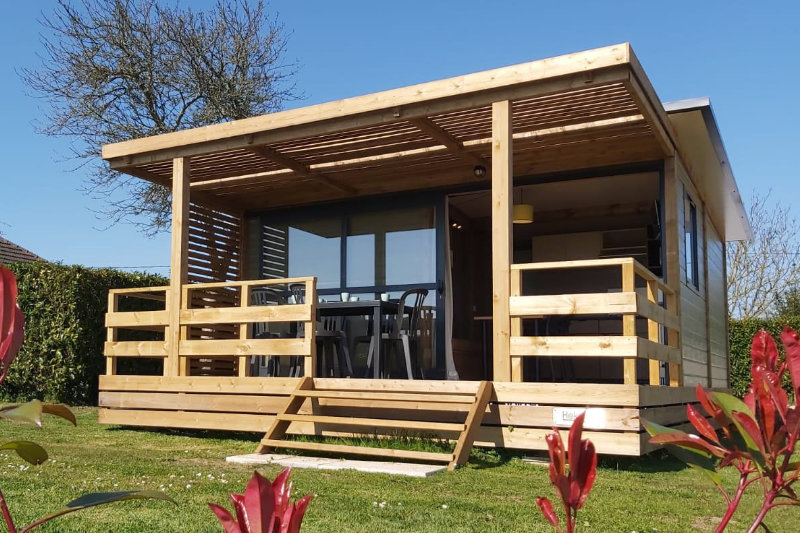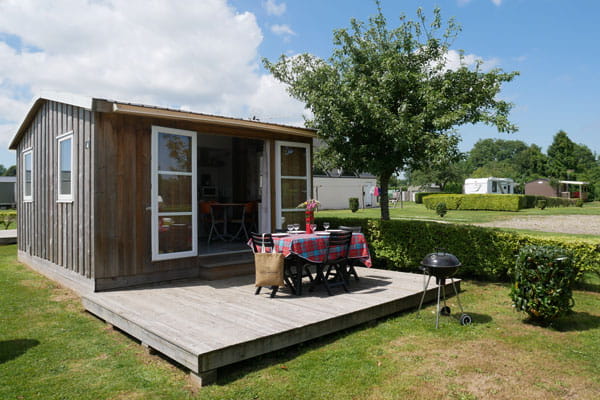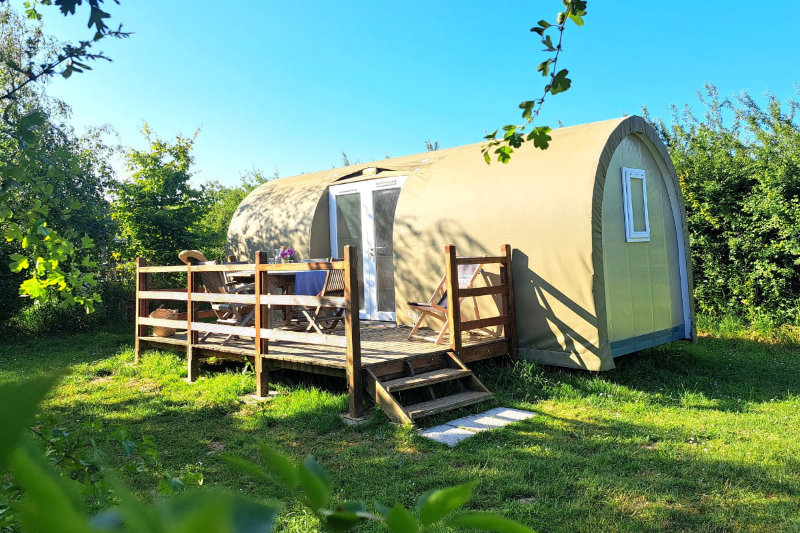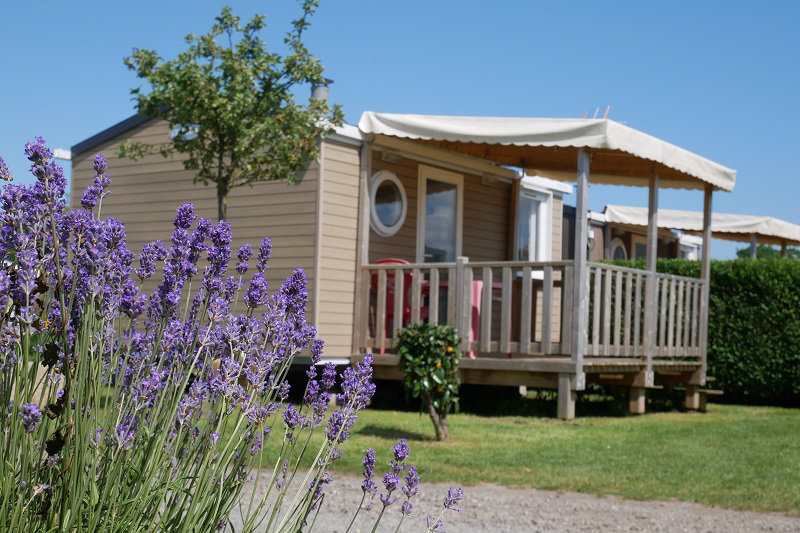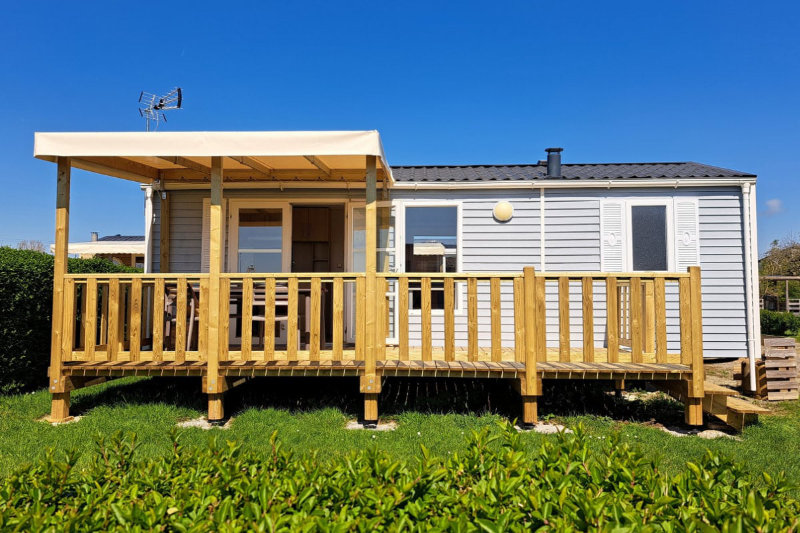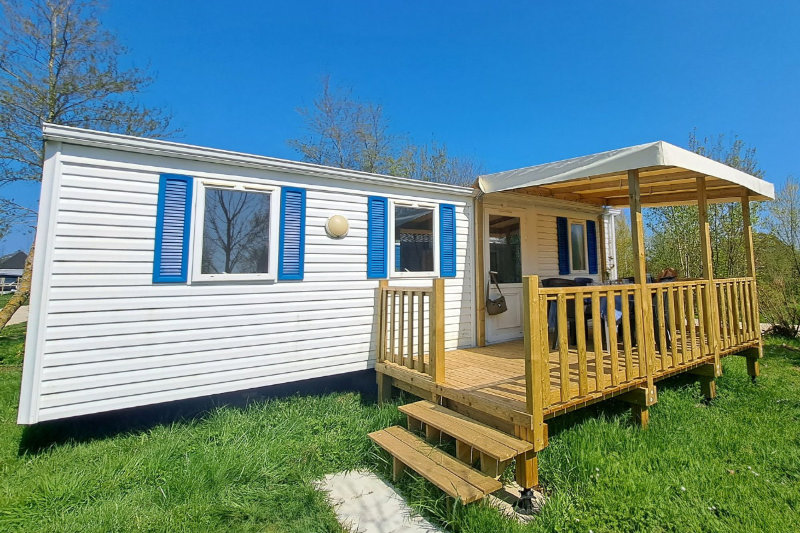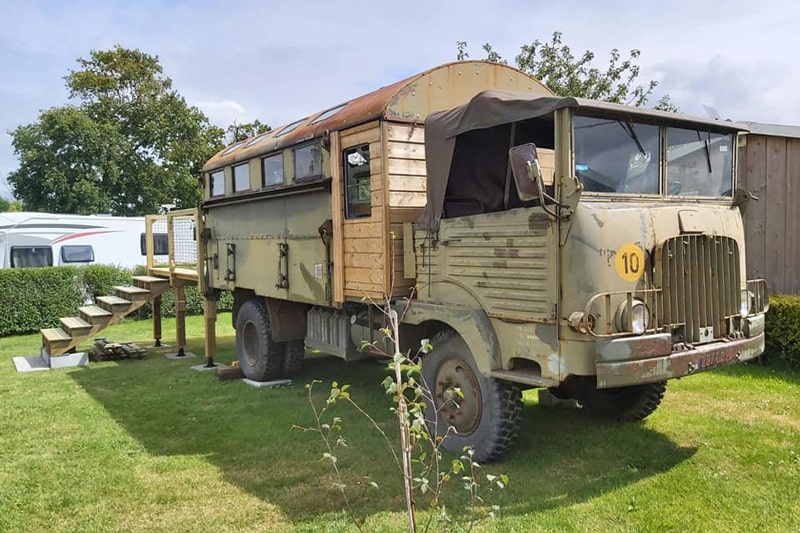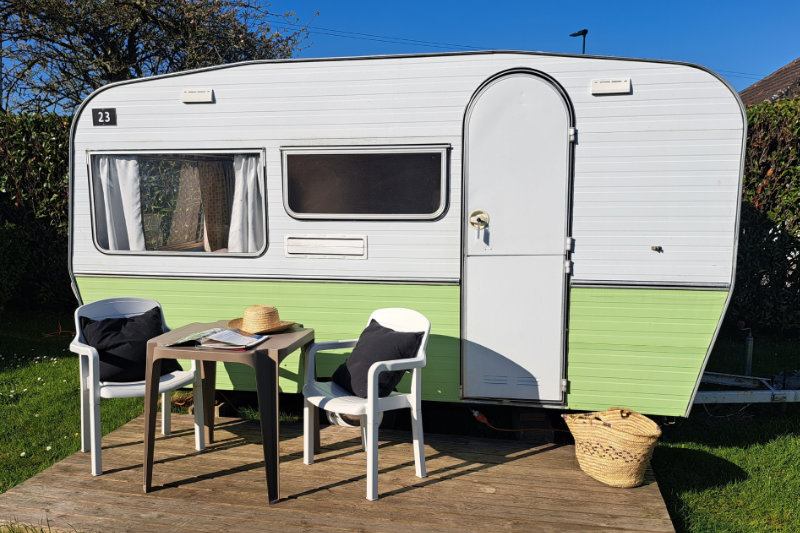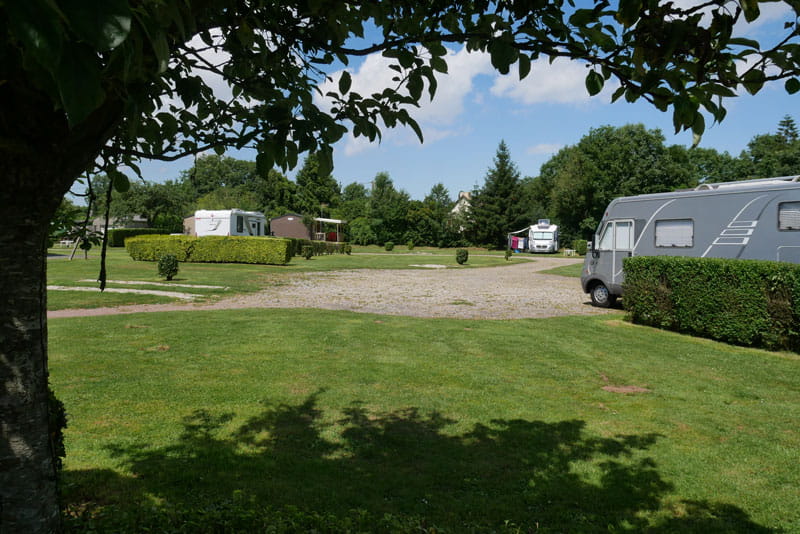 Also take advantage of our many services
WIFI
We have WIFI throughout our campsite. The network is of very good quality.
This service is chargeable. We invite you to consult the price list under our "Prices" page.
Sanitary block
The sanitary block was completely renovated in 2019. During the opening period of the campsite, it is freely accessible.
 It is equipped with:
showers without supplements and without token including a shower for people with reduced mobility

sinks, some of which are private, all equipped with electrical outlets

WC including one adapted for people with reduced mobility

a chemical toilet to empty the cassette of motorhomes or caravans

a laundry room with a washing machine and a tumble dryer (paid service)

crockery and laundry tubs

washing lines outside the toilet block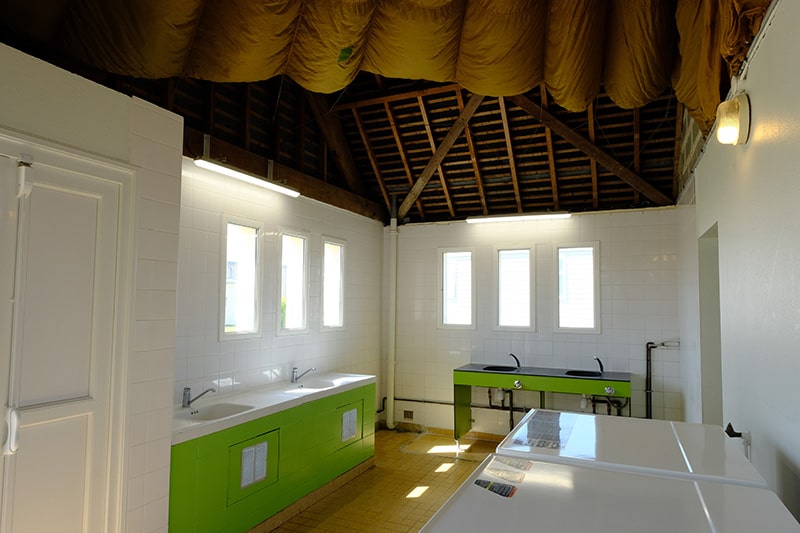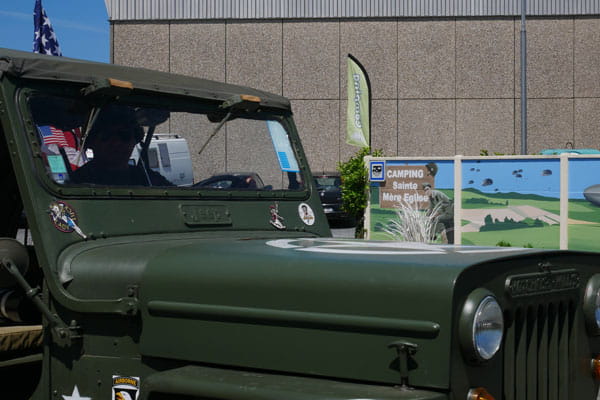 Service area for motorhome
Our campsite is equipped with a service area (drinking water and gray water) located at the entrance.
This service is free for our customers.
The service area works with tokens which must be requested at the campsite reception. This service is only available during reception opening hours.
This service becomes chargeable for non-customers. We invite you to consult the price list under our "Prices" page.
AIRBORNE Museum Ticket
We sell discounted tickets for the Airborne Museum.
By visiting the museum, you will be in total immersion in the heart of the Normandy D-Day with American paratroopers.
You will be the witness of the events of June 6, 1944.
More information about this mythical museum in our page "Tourism"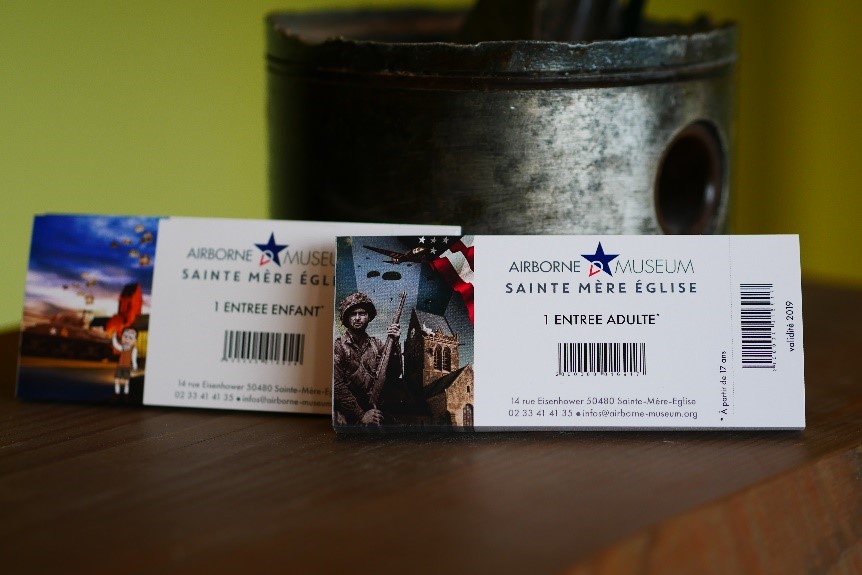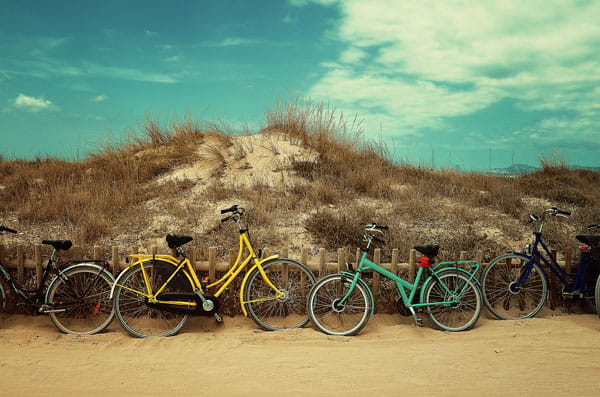 Bicycles rental
A bicycle rental service is available at the campsite reception, you can take advantage of the small country roads, the GR223 and cycle routes to get to UTAH BEACH or to the beach, roam the marshes or discover St-Vaast- La-Hougue and Barfleur for the bravest.
We provide hybrid bikes for adults Consult the prices charged for these services on the "Prices" page of the site.
Consult the prices charged for these services on the "Rates" page of the site
Playground
A children's play area is available on the campsite. The games available are: a swing, a turnstile and a slide in the form of a fortified castle.
Our campsite is located next to tennis, football, basketball and pétanque courts in the town of Sainte-Mère-Église. They are freely accessible and customers can use them free of charge.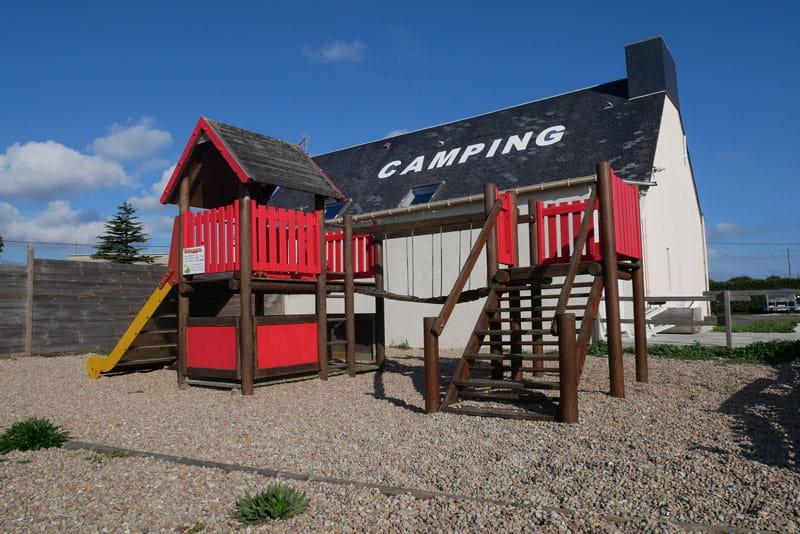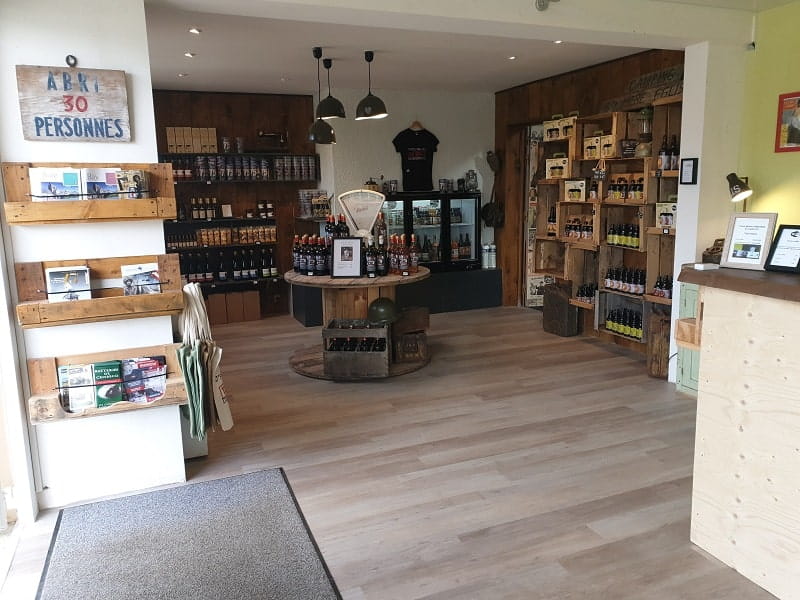 Shop
At the campsite reception, come and discover the souvenirs and local products that we offer.
This will allow you to taste good products, made in Manche or near Sainte-Mère-Église. This can give you gift ideas to offer or bring back a souvenir from Cotentin and Normandy.
Local shops in Sainte-Mère-Église
By being based on the campsite, you will be within walking or cycling distance of the shops. The commune of Sainte-Mère-Église has:
Two bakeries

A butcher's shop

Three banks with ATMs

A pharmacy

A veterinary

A health center (general practitioners, nurses, etc.)

A post office Tobacco shop / newspapers

A shop of local products and bookstore

A delicatessen at Chez Arno

A mini-market

A Supermarket
There is also a wide choice of restaurants in the center of the village :
La crêperie Chez Jeanne
Le Bistro 44
Le Nyco's Happy Diner
L'auberge John Steele
Crêperie Cauquigny
Kiki's Factory
Le restaurant de la Biscuiterie
C-47 Café (glacier)
Le Castel (glacier)
For taste memories, you can taste Sainte-Mère-Église cookies (https://biscuit-sainte-mere-eglise.com/fr/) or leave with craft beer from Sainte-Mère-Église (https://biere-sainte-mere-eglise.com/)
There are also several souvenir shops in the center of the village.
A traditional french market takes place every Thursday morning on the Church Square. During the summer, you can also enjoy the local market on Tuesday afternoon in Sainte-Mère-Église and a beachfront market in Ravenoville on Sunday morning. You can have an overview of local shops by consulting this city map.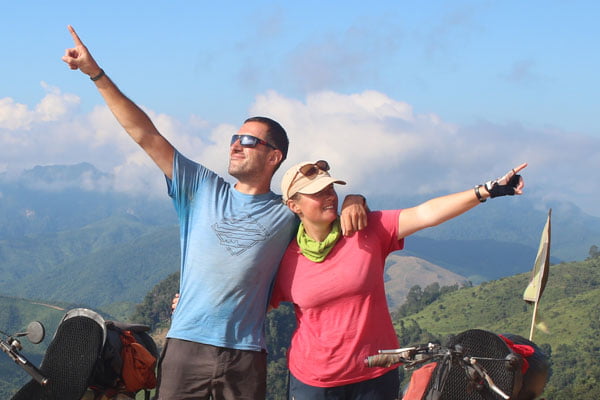 The owners, Ophelia and Fred, welcome you
Ophélie is native of the region next to Mont Saint Michel. Fred, on the other hand, is from the Oise, in Picardie.
Before moving to Sainte-Mère-Église, we pedaled across several continents with our recumbent bikes. Feel free to check out our travel blog to learn a little more about us and our 40,000 km of adventure : partirlespiedsdevants.com
We are simple people who love contact with campers. Thanks to our trips abroad, we speak English fluently, have good Spanish skills, know 3 words of Russian and 2 of Japanese.
We will be very happy to welcome you in our campsite in Sainte-Mère-Église and to contribute to your stay being exceptional.